4 Reasons To Choose A Career In Hospitality & Tourism And 14 Jobs You Can Apply For Right Now
Excalibur Press Newsroom
As the industry begins to look forward after the impacts of the pandemic and Brexit before that, there are key roles that are waiting to be filled.
We as consumers mostly experience customer-facing roles, but there is so much more to the industry than just those roles. In addition to self-employment and entrepreneurial opportunities, there is a wealth of diverse roles back of house and in supporting roles such as finance, HR, marketing and the wider visitor experience.
The Hospitality and Tourism industry is teeming with opportunities and employers are looking for people with personality and passion.
Here are 4 Reasons To Choose A Career In Hospitality & Tourism And 14 Jobs You Can Apply For Right Now:
It's creative
Hospitality and tourism are not only people-oriented but also very creative. From creating new products to dreaming up new experiences you can use your creativity to the fullest. No two days are the same in the industry, which means you can escape the monotony of 9-5 and become a flexible and open-minded thinker.
Great perks
Beautiful surroundings, meeting new (sometimes even famous) people, gourmet dishes, new places, amazing staff discounts, the perks of working in hospitality and tourism are endless.
Your ticket to see the world
Working in tourism is like an open ticket to see and experience new places. There are many career paths that enable travel, giving you an opportunity to work from a single location abroad or even travel regularly as part of your job.
Learn transferable skills
A career in hospitality is not just about serving guests just as a job in tourism is not just about travelling. Working in these industries will teach you invaluable skills from interpersonal and organisational skills to management skills and even cultural awareness. These are all transferable and can help you in the long run if you ever want to change career paths.
What will your role be in the industry?
As part of the Hospitality & Tourism Skills network (HATS) and Tourism NI partnership, you can now easily find opportunities that the industry has to offer on a central job portal.
Here are 14 jobs you can apply for right now: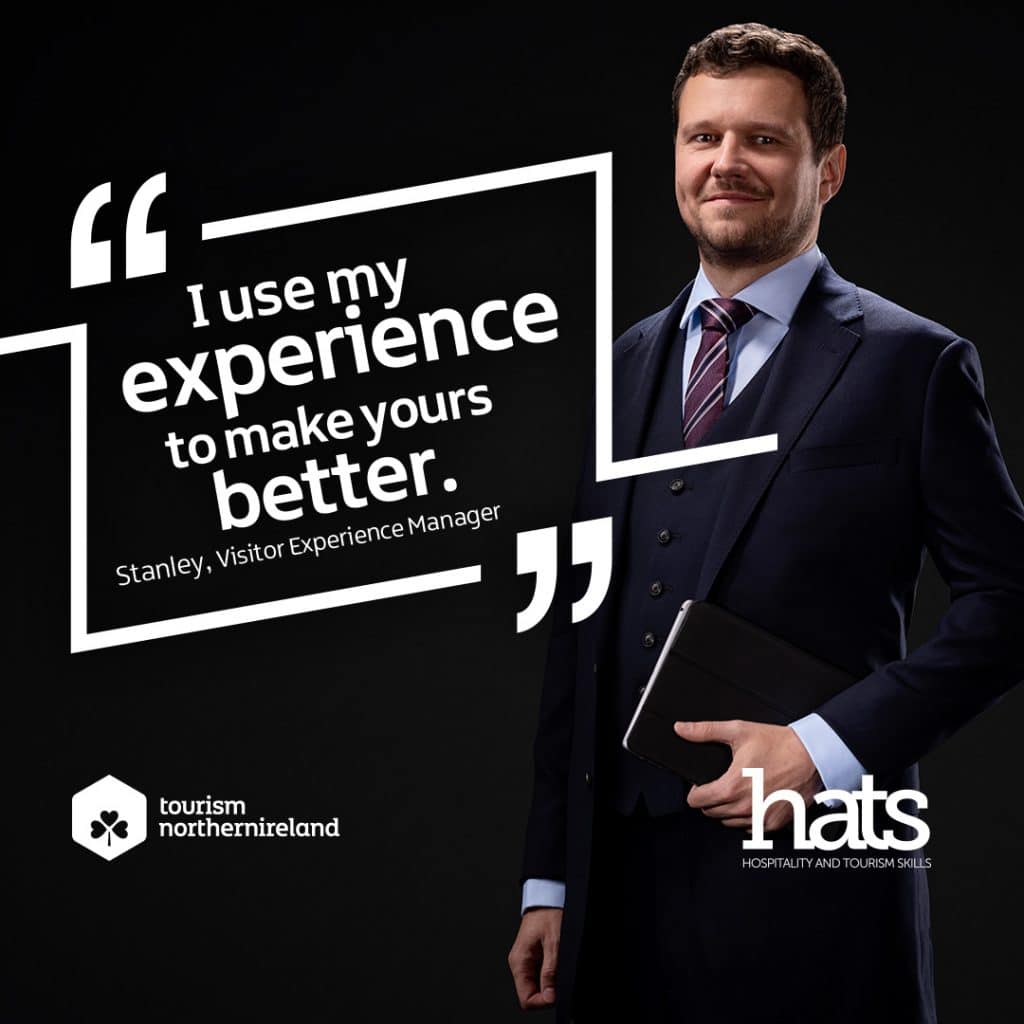 1. Visitor Experience/Hospitality Manager | Bushmills Distillery | Co. Antrim
One of the Causeway Coast's top visitor attractions, Bushmills Distillery are looking for an enthusiastic and talented individual to join their Visitor experience Team. The successful candidate will be responsible for the planning, execution, supervision, hospitality, and customer service for all visitor experiences.
2. Travel Consultant | Trailfinders | Co. Antrim
Permanent
Belfast
Trailfinders are recruiting for Travel Consultant positions in Belfast, Dublin, Cork and Limerick. The ideal candidate needs to have experience of working in a target based sales role, have e a strong worldwide geographical awareness as well as extensive and recent first-hand travel experience.
3. Cleaning Operative | Mount Charles Group | Co. Antrim
£8.91 per hour
Permanent
Lisburn
Mount Charles are recruiting for a Cleaning Operative to join their team at Art Lagan Valley Island Lisburn City. The person will ensure all areas are cleaned efficiently, in a timely manner and in accordance with relevant guidelines.
4. Chef Manager | Compass Group | Co. Antrim
Permanent
Up to £25,000 per annum
Belfast
Compass Group is looking to recruit a Chef Manager to be in charge of overseeing the catering services, ensuring the best service and quality of food for all students and staff. The Chef Manager will be required to liaise with and support the Head Chef in the preparation of meals. To plan, prepare, cook all menu dishes, providing a high-quality offer for the customer and client. Carry out general cleaning of the kitchen, maintaining high standards of hygiene. Drive sales through menu plans and promotions suited to the location and ensure compliance with purchasing.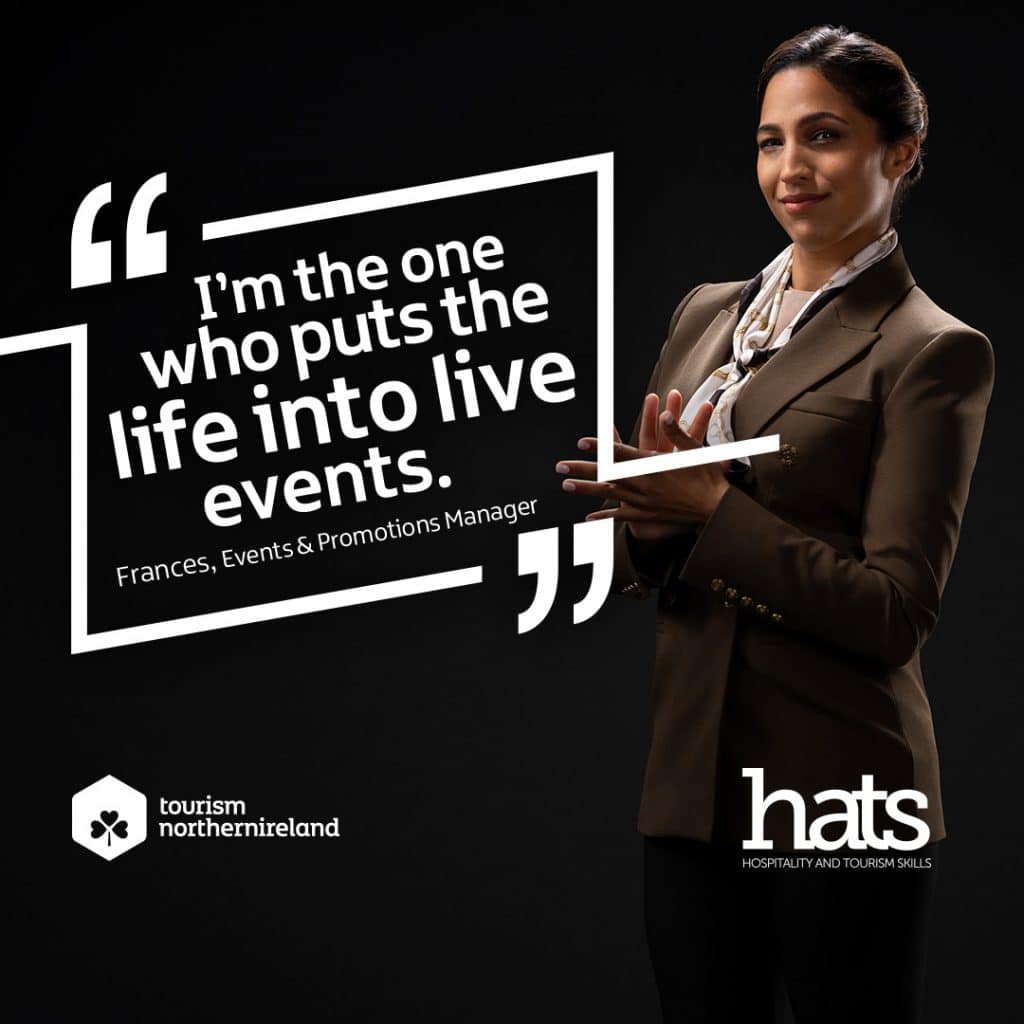 5. PR and Communications Manager |Staffline | Co. Antrim
Permanent
Belfast
Staffline Ireland are recruiting for a PR and Communications Manager for a company in the leisure and tourism industry. The successful candidate will be responsible for the development, implementation, management and evaluation of the PR and communications strategy and operational plans, leading to the achievement of set targets and KPI's, promoting Belfast as a top European tourism destination for business, leisure and cruise.
6. Fitness and Leisure Manager | Employers For Childcare | Co. Antrim
£25,000 per annum
Lisburn
Employers for Childcare is recruiting for a Fitness and Leisure Manager to join High Rise, the 10,000 sq ft indoor adventure centre in Lisburn incorporating a Clip 'n Climb climbing arena, soft play, corporate facilities, sensory rooms, and cafe.
The successful candidate will be an experienced climbing instructor who can take overall responsibility for all aspects of delivering safe, fun climbing activities for guests of all ages and leading an energetic team of Clip 'n Climb instructors.
7. Staffing/Events Co-Ordinator | Alchemy Recruitment Solutions | Co. Antrim
£20,000 – £24,000 per annum
Permanent
Belfast
As a result of their ongoing expansion plans and increased business levels, Alchemy Recruitment Solutions are looking for a focused and driven individual who is willing to take on a key role within the organisation as a Staffing/Events Coordinator.
The successful candidate will be responsible for the co-ordination of temporary and casual staff in line with client requirements. In addition they will ensure that all timesheets and associated administration will be completed in an efficient and accurate manner within strict deadlines.
8. Kitchen Steward | Slieve Donard Resort and Spa | Co. Down
Permanent
Newcastle
The Slieve Donard is recruiting for a Kitchen Steward to join their team in offering a bespoke, hand-crafted hospitality experience to their guests. The successful candidate will be responsible for the efficient operation of the kitchen function and maintaining a clean and tidy work environment. Opportunities are available both within the Hotel and the Percy French.
9. Assistant General Manager | Nando's | Co. Antrim
Up to £27000 per annum
Belfast
Nando's is on the hunt for an Assistant Manager to join their team in their busy restaurant in Belfast. The candidate will work alongside the General Manager to support the team to be the best they can be and deliver an amazing Nando's experience to all our customers.
10 – 11. Seafood Counter Manager And Assistant Counter Manager | Staffline | Co. Down
Permanent
£10.20 for Manager
£9.70 for Assistant Manager
Staffline are seeking a Seafood Counter Manager and a Seafood Counter Assistant Manager for a new project in a busy retail environment in County Down.
The third-generation family business sources the best quality fish every morning from the local ports of Kilkeel, Ardglass and Portavogie to supply some of the leading businesses in hospitality and catering across Northern Ireland.
12. Conference & Banqueting Co-ordinator | Armagh City Hotel | Co. Armagh
Permanent
Armagh
Armagh City Hotel is offering an exciting opportunity for someone to join their team as a Conference & Banqueting Co-Ordinator in their busy C&B Department.
13. Catering Assistant – Foyle | First Choice Selection Services Limited | Co. Derry
Temporary
£9.50 – £11.00 per hour
Ballymena
First Choice Selection Services are recruiting for a full time, temporary catering assistant for s well-established Private client in a supported living environment, responsible for preparing and serving food to a high standard, carrying out cleaning duties and catering for a variety of dietary needs.
14. Guest Services |Killeavy Castle Estate | Co. Down
£9.60per hour
Newry
Killeavy Castle Estate is seeking a Guest Services Attendant to join their award-winning 4-star Hotel. The successful candidate will be responsible for being part of the front office operation within the Hotel and reporting to the Front Office Manager, with a primary focus on carrying out all aspects of the day-to-day operation of the Front of House function.
If you are interested in any of these positions make sure you apply NOW!
For more opportunities, go to www.careerscope.uk.net/NI #CountMeIn